Lawn Mowing Service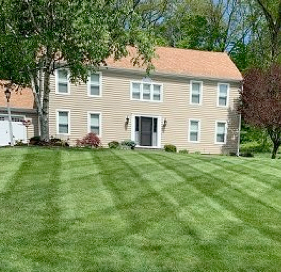 Elite Lawn Care offers lawn mowing services to fit your needs and schedule, from plans that include weekly mowing and basic weed whacking, to a complete weekly service including mowing, weed whacking, edging, and bagging grass.
We are based in Cheshire, CT, and offer lawn mowing services in Cheshire, Hamden, Southington, Wallingford, Plantsville, Prospect, Meriden, and North Haven. Not sure what you need? We will work with you to determine the best plan for your landscape and budget.
Benefits of regular/weekly lawn mowing service:
Properly mown grass gives your property better curb appeal
Weekly cuts will make your grass grow in fuller and stronger
Grass clippings from regular mowing act as a natural fertilizer: as they break down, they release nitrogen, potassium and phosphorus, which your lawn needs to stay healthy
Keeping grass short reduces pests such as ticks and mosquitoes
Residential Lawn Mowing Service
A beautiful, well-maintained lawn creates an inviting space and helps your home make a great first impression. However, most homeowners simply don't have the time required for proper lawn maintenance. That's why Elite Lawn Care has you covered, with professional, stress-free residential lawn mowing services. We'll keep your lawn at its neatest and its healthiest, season after season.
Get a free estimate for residential lawn service now ›
Commercial Lawn Care
The condition of your property reflects on your business—so don't overlook this important investment. Elite Lawn Care provides commercial lawn mowing service that is regular, reliable, and always respectful of your property. We understand that your grounds are one of your company's assets, and we have the expertise to keep your lawn neat and well-manicured. With our close attention to detail, your entire property will look more professional.
No matter what type of landscaping you have in place, Elite Lawn Care can recommend a plan that's right for you. Let us focus on your commercial lawn maintenance so that you can focus on business.
Get a free estimate for commercial lawn services now ›
Elite Lawn Care Mowing Services
Lawn Mowing*
Weekly lawn mowing (we will

not cut the lawn if it does not need it or if it is burnt out during hot summer months)

Weed whacking as necessary around mailbox and landscape elements
*The mowing season starts in April and runs until the week after the first frost; the season can be extended to mow your lawn earlier or later if needed.
Additional Lawn Care Services
Available on a weekly, bi-weekly or monthly schedule, including:
Bed edging
Edging sidewalks
Bagging grass clippings
This guy has an eye for perfection. Looked like he cut my grass with a pair of scissors, blade by blade. Great job by Drew!