Lawn Aeration Services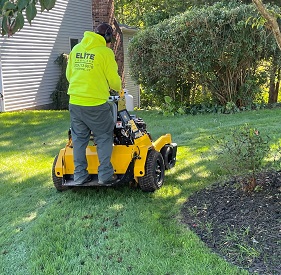 If your lawn is looking less than lush, your soil may be compacted too tightly, preventing grass from reaching its full potential. This is a common scenario in yards that get a lot of foot traffic, as well as in areas with heavy clay soil. There is a solution: lawn aeration service from Elite Lawn Care. By improving soil compaction, you'll get denser grass growth and a more attractive yard.
What happens during a core aeration service?
Elite Lawn Care offers a type of aerating lawn service known as core aeration. During this process, hollow tines are poked into the ground to extract small plugs of soil. As a result, your lawn will be covered with narrow holes, both several inches deep and several inches apart. This is a good thing! These holes allow oxygen, water, and nutrients to penetrate the soil right down to the lawn's root systems.
The extracted soil plugs are typically left to decompose on top of the lawn, where they'll be a rich source of nutrients to the ground below. Your lawn will look smooth again in three to four weeks—and the benefits of yard aeration services will last for months or even years to come.
After an aerator lawn service, you'll see:
A healthier lawn that's less susceptible to diseases and pests
New grass grows in quickly and more densely
Better drainage
Stronger, deeper root systems
Improved oxygen levels in soil
September is the best time for lawn aeration in Cheshire, CT, so call or text us today to get on our schedule.