Mulch Blowing Services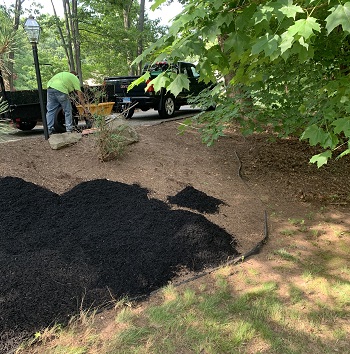 Mulch installation, commonly referred to as mulch blowing service, improves the look of your property and has several benefits for your garden, including:
Reducing water evaporation from the soil so your plants require less watering
As the mulch breaks down it adds nutrients to the soil helping your plants grow
Inhibiting weed germination and growth
Protecting plants from extreme temperature fluctuations
Enhances your properties curb appeal
If you need a mulch installation service in Cheshire, CT or the surrounding areas, Elite Lawn Care is here to help. We can meet with you to help you pick the correct mulch color to match what you already have, or help pick a new color for a fresh look. Our mulch installation options range from a simple drop and spread or a full service install that includes weeding all beds, applying weed control, redefining all bed edges, then installing your chosen mulch. We can also help schedule your mulch delivery too.
We've been very happy with Drew and Elite Lawn Care! He is responsive and provides professional, quality work. Definitely recommend!!